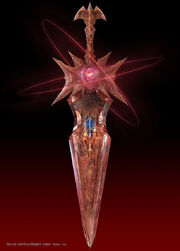 The
Qliphoth Key
is an ancient Demonic artifact that is responsible for granting one access to the Qliphoth of a human being. It is first unveiled in Season 2, when it is revealed to be in the possession of the Demonic King
Bael
, who has claimed it after usurping the throne of Hell from
Lucifer
and taking
Ashtaroth
, the guardian of the Qliphoth, as his "bride". During Bael's confrontation with Sadow, it first manifests as a large sword made of both steel and flesh, with a strange eye centered in the middle. Bael shows he is quite skilled in swordplay, especially with this weapon. After Sadow stabs the center eye, it explodes in a fantastic display and is revealed to have transformed into a more elegant but equally powerful weapon which Bael uses in his next transformation.
Ad blocker interference detected!
Wikia is a free-to-use site that makes money from advertising. We have a modified experience for viewers using ad blockers

Wikia is not accessible if you've made further modifications. Remove the custom ad blocker rule(s) and the page will load as expected.